Kentucky Basketball: Addressing the possibility of John Calipari leaving UK
It goes without saying that John Calipari, head of the Kentucky Men's Basketball program, has been feeling the pressure from the very vocal Kentucky fanbase this season.
With a top 5 preseason ranking in almost every poll, expectations were high for John Calipari and the Kentucky basketball program coming into the 2022-23 season. So far the Wildcats have been underwhelming in relation to those expectations, although they have seen an upswing of late.
However, with the looming $50 million-plus contract buyout, the BBN is more than likely serving as the only source of pressure. Mitch Barnhart spoke earlier in the week with Matt Jones of Kentucky Sports Radio and expressed his support and faith in Coach Cal.
Barnhart went on to mention that he doesn't like to intervene in the X's and O's portion of the job, and that he likes to have trust in his coaches to be the experts in that craft.
If you would like to catch the full interview, check out the link below:
However, even with the guaranteed money leaning in Calipari's favor, along with the outspoken support of the UK Athletic Director, some have speculated that the fan and national media pressure may be getting to the head coach.
Rumors have been circulating for a number of days now that John Calipari is on the shortlist of coaches to replace Chris Beard at the University of Texas. Could Calipari be headed to Austin next season?
Is John Calipari possibly taking the Texas job?
There are rumors swirling around about Calipari and the Texas Longhorns job, but is that a realistic possibility? Travis Branham with 247Sports seems to think so.
Shortly after the Wildcats suffered a tremendous loss to the Alabama Crimson tide, Branham released a report saying that the Texas Longhorns Athletic Dept. had reached out to Calipari through back channels. Branham even went as far as to report that if Texas makes a "competitive offer" the Kentucky coach would likely "jump at the opportunity."
Texas fired Chris Beard after a domestic violence scandal that allegedly occurred in December of 2022. Beard was in his second season at the helm of the Longhorns, who are seeking to become a national contender once again.
Some of the other names circling the Rumor Mill as possible candidates for the job include Nate Oats from Alabama, Eric Musselman from Arkansas, and the acting head coach at Texas Rodney Terry.
However, not everyone is on board the "Coach Cal is leaving" train, even with the Wildcats sitting having a rough start to the season. Jay Bilas doesn't see Coach Cal going anywhere any time soon. Kentucky is still considered the best job in basketball, period, by many.
Bilas said on ESPN's broadcast of Kentucky-Tennessee, via Nick Schultz.:
"This has not been a fun year. But I just don't see him going anywhere. I understand where the talk comes from. That's sort of the nature of the business right now. But he's not only going to see it through this year, but I just don't see him leaving anytime soon. I don't know where this stuff comes from."
Calipari has also denied these rumors, going on the record to say:
"I haven't talked to anybody. My concern right now is my guys, my team, and getting this right. That kind of stuff happens, but I only want to talk about this job. I love this job. I love this group."
Not many coaches in his situation would outright admit to seeking alternative employment, or even entertaining the idea.
However, after watching the Wildcats' victory over the Volunteers, followed by an impressive outing against the Bulldogs of Georgia in Rupp Arena, it does appear Calipari still had faith in this team, in this fanbase and it also appears he, along with the players, may have regained some of their spark.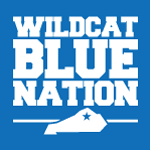 Want your voice heard? Join the Wildcat Blue Nation team!
Write for us!