The Kentucky Wildcats are on the road tonight against the Auburn Tigers, and heading into halftime, the Cats lead an ugly game by a 28-22 margin.
Slow starts have plagued the Cats for much of the year, but tonight saw these young Cats jump out to a quick 18-8 lead on the strength of their three-point shooting.
But Auburn would respond with a 20-2 run of their own to get right back in it and fire their home crowd up.
It didn't help that UK's shooters were going cold either, and on one possession, Aaron Harrison manged to miss the rim entirely on two three-point attempts.
But the Cats' offense reignited once they started attacking the paint and exposing Auburn's lack of size. Dakari Johnson and Alex Poythress began asserting themselves in the paint, and they helped UK make it to the halftime break with a lead.
Poythress and Andrew Harrison lead the scoring effort for UK with five points apiece.
UK shot just 30.0 percent in the first half and no player scored more than five points, but the Cats also held Auburn to just 30.8 percent.
The Cat's last made field goal came off a Randle jumper at the 7:03 mark.
Here is the halftime box score: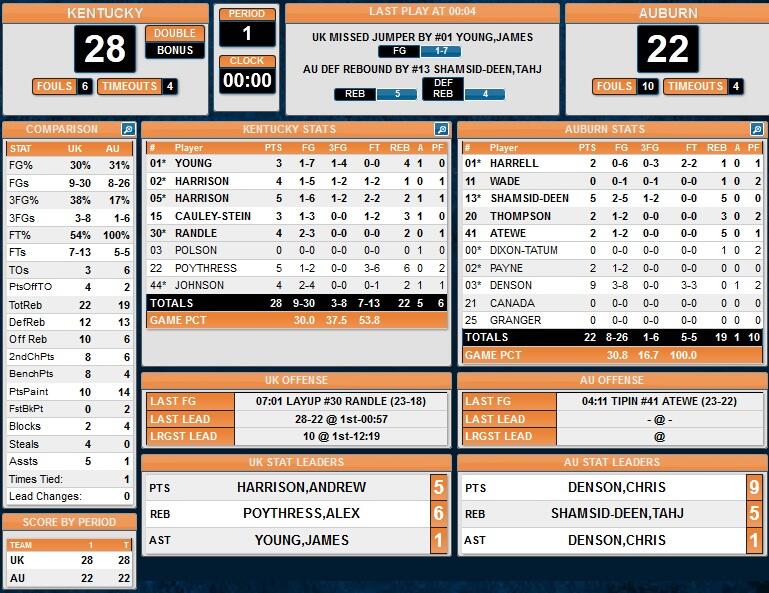 Want to get the latest Kentucky Wildcats news wherever you may be? Download the newly redesigned official Fansided App on the App Store or Google Play Market today to stay up-to-date on the latest news and rumors from WBN without even being at a computer. You can also sign up for our newsletter below to get daily updates send straight to your e-mail.
Tags: Auburn Tigers College Basketball Kentucky Wildcats SEC