It's halftime in Lexington, Ky., where the Kentucky Wildcats lead the Ole Miss Rebels, 35-34 at the break.
Both teams battled throughout the half, and neither team held a lead bigger than five.
The story of the first-half was Willie Cauley-Stein, who scored a combined 14 points in the previous six games, but already has eight vs. the Rebels.
He's also tossed-in three boards and two blocks, but eight points by Marshall Henderson kept Ole Miss in the game.
Ole Miss also got good production from freshman forward Sebastian Saiz, who chipped-in 7 points.
After Willie, Aaron Harrison was the Cats' next biggest contributor with 12 points on 3-of-7 shooting but was 4-of-4 on free throws.
In all, the Cats had a productive first-half on the offensive end, but their defense still leaves more to be desired. They did manage to hold the Rebels to only two free throw attempts and did a better job of staying with their man on drives to the rim.
That's what killed them Saturday vs. Missouri, as Tigers guards repeatably drove to the rim uncontested or were fouled and got to the charity-stripe.
Halftime Box Score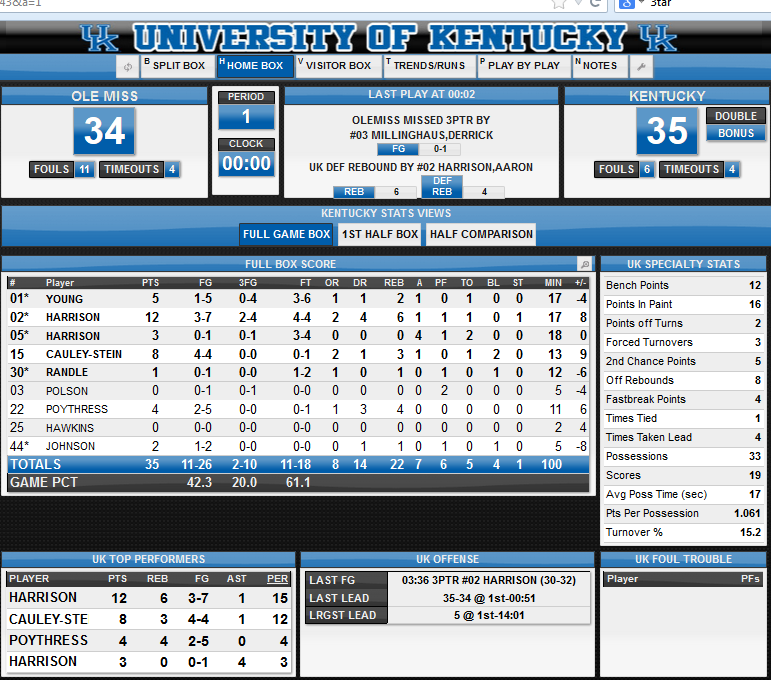 Want more Kentucky Wildcats news like this? Then be sure to download the Fansided app on your phone, or grab our RSS feed.
Subscribe to FanSided Daily for your morning fix. Enter your email and stay in the know.
Tags: College Basketball Kentucky Wildcats Marshall Henderson SEC Willie Cauley-Stein