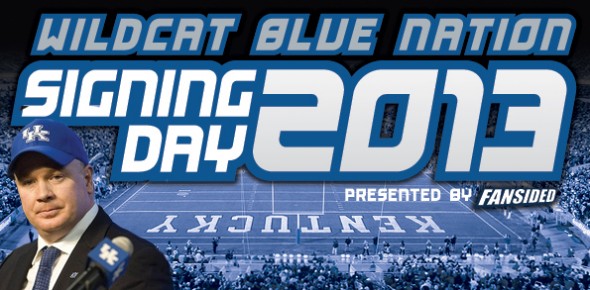 National Signing Day is here my friends! Many young men are deciding where they will be attending college for the next 4-5 years, and which programs will see their future success or failure hinge on the ink used to sign their letter-of-intents.  And we at the Wildcat Blue Blog are proud to say that we will have you covered all day with the latest in football signing updates!
We'll keep you updated here regarding all of the latest news of UK signings, as we'll as where other targets end up. We'll also be covering commitments from all around the SEC, and anyone UK is slated to play in 2013. That means you too Louisville!
Head coach Mark Stoops has wasted no time in getting the fanbase fired up, and there may have never been as much excitement in a National Signing Day in the history of Kentucky football:
#BBN Let's get ready for a BIG DAY…no better sound than the beeping of the fax!

— Mark Stoops (@UKCoachStoops) February 6, 2013
Here's the latest signing schedule of every UK commitment
8:00 – Blake McClain, Austin MacGinnis
8:15 – Jaleel Hytchye
8:30 – Jacob Hyde
9:00 – Nick Haynes
9:30 – Khalid Thomas, Alvonte Bell
10:00 – Nate Willis
10:30 – Jeff Badet
11:00 – JoJo Kemp
11:30 – Justin Day
12:30 – Regie Meant
1:00 – Ramsey Meyers
3:00 – Jason Hatcher
Chad Scott:
The facilities have gotten a whole lot better since I was here. When I left, I had never been to the coaches office. When I come back here and see all the coaches offices, you can tell they've definitely upgraded. Now, with the renovation approved, we can make them even better than what they are.