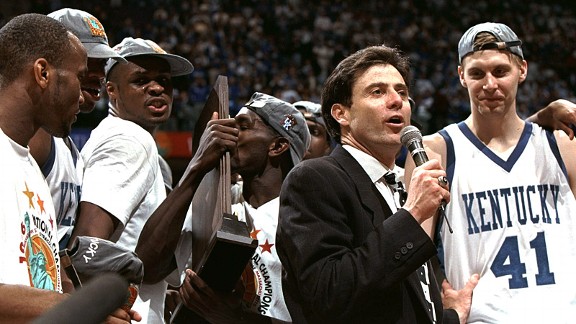 While I may never be able to totally forgive Pitino for going to Louisville and the subsequent jabs that he has thrown at the collective chin of Kentucky fans, I have a new appreciation for the man and what he accomplished during his time in Lexington.
I am currently reading The Last Great Game by Gene Wojciechowski. It chronicles the 1992 Duke vs. Kentucky game and all of the events that led up to it. It is an interesting, inside look at the Wildcat program and is a must read for any true blue Wildcat fans.
I was ten years old when this game was played and I was only seven when Kentucky was almost given the death sentence by the NCAA for multiple infractions. I was just starting to follow Kentucky basketball with fervor during the '92 season, so the probation era was really just a footnote to me. I knew the magnitude of the Duke Elite Eight game because I was aware of how good we were and how really, really good Duke was. Laettner's shot was my first real lasting memory of Kentucky and college basketball.
So, my appreciation for Pitino is not what it should be due to the lack of perspective I have for the late eighties. Yes, I knew he resurrected the program and took it to heights not seen since Adolph Rupp, but I didn't understand the severity of the probation or all that Pitino gave up to come to Kentucky.